Yass Queens! Sophie Turner and Maisie Williams became mersin kızları megawatt stars as the slaying Stark Sisters in Game of Thrones. Here, in their first-ever joint cover shoot, they let us in on the friendship and the fierce attitude that will take them beyond Westeros. Words By: Josh Smith
"People always think Maisie and I are a couple. I mean,
I am obsessed with her, so you never know," Sophie Turner deadpans about her Game Of Thrones on-screen sister. "She's my drug. I've got an addiction to Maisie Williams. I actually stalk her hashtag on Instagram!"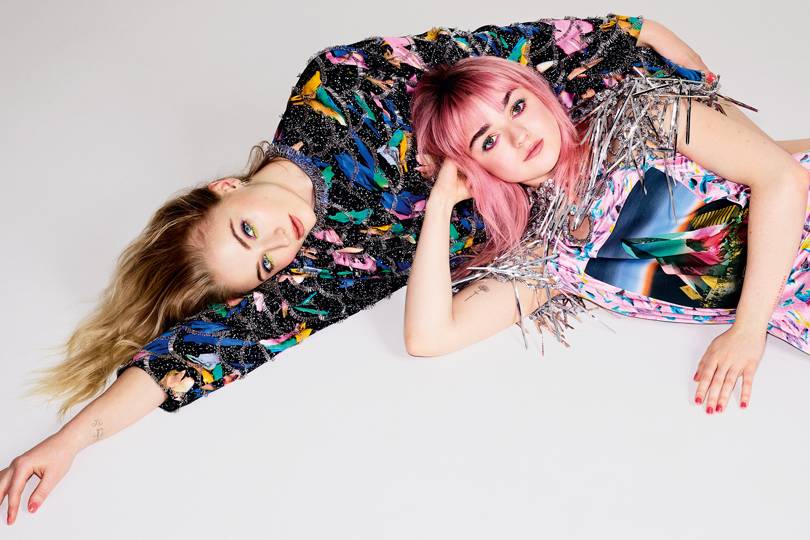 Anyone who might suggest their chemistry isn't real off-screen would likely be met with the full 'Stark sister' wrath; an electrifying on-screen pairing that has helped turn Game Of Thrones (GOT) into the biggest TV show in the world, with a global audience of millions. Yet the world of 'Mophie' (as fans have dubbed them), is as free from Hollywood artifice as you could wish for.
Maisie, 21, and Sophie, 23, met aged 12 and 13 respectively during the audition process for GOT, back in 2009. Practically love at first sight, email addresses were exchanged and, "Honestly, we've been best friends ever since," says Sophie. Following many raucous nights in and out (more on that later), their constant stream of text messages to one another, and the matching '07.08.09' tattoos on their forearms (the date they landed their roles), these two – in true GOT fashion – have pledged allegiance to each other for life.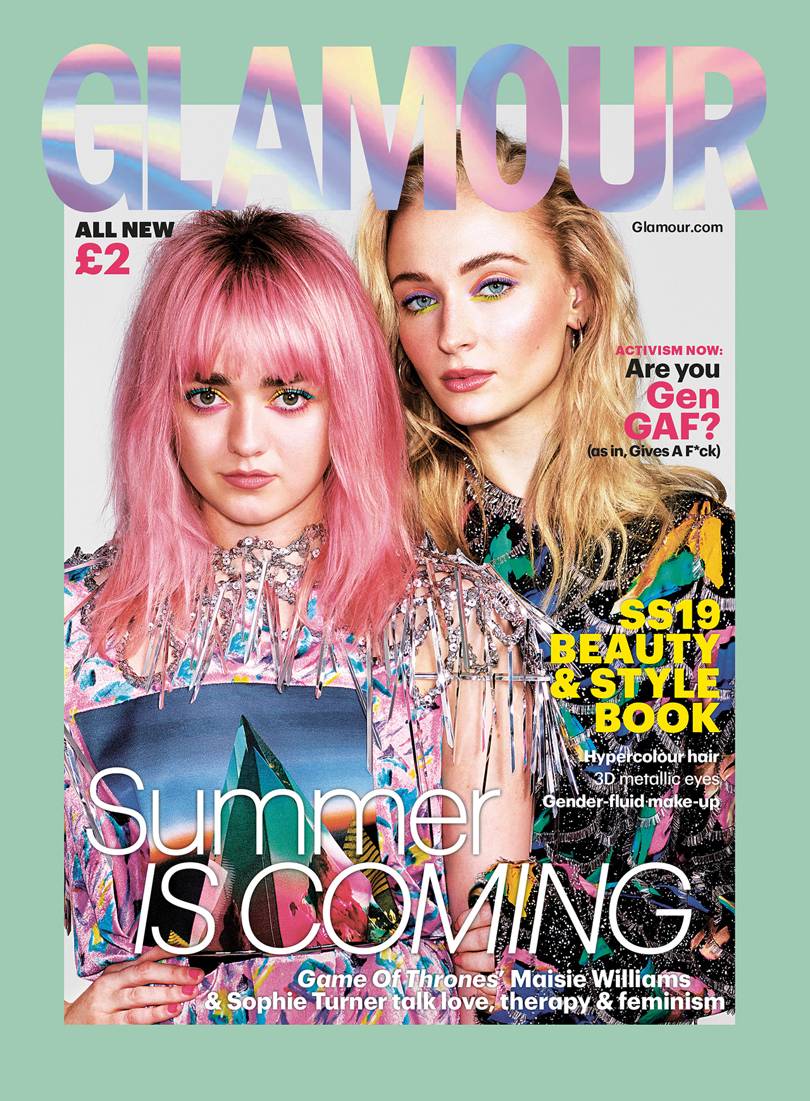 "Put us in the same room and we pick up where we left off," adds Maisie. "We've always been really open with each other. As you get older, the stakes are higher, the problems get worse – so it's built into a lifelong friendship. Sophie knows too much about me to not be my friend."
Now, as the eighth and final Game Of Thrones series hits our screens, we've united our favourite TV sisters to reveal their zero-filter, no-BS life lessons that we can all relate to, from mental health to men. Yes, this is the Mophie Manifesto.
Sisters In Arms
Despite coming of age in the public eye, the pair have managed to avoid the child-star curse of burning out too soon. And they both credit each other with getting through it.
Pushing her vegan meal around a takeaway box with her fork as they both take a break from shooting, Maisie serves a refreshing dish of disclosure. "I can't tell you the amount of times Sophie said, 'Go to therapy,' before I actually did. She really helped me through some messy break-ups and some friend break-ups. Whenever I'm like, 'I need help! This is bigger than anything I can sort out on my own,' Sophie is my point of call. I think therapy is so important. You should absolutely speak to someone, even if in your head you go, 'Yeah, I knew that!'"
While many high-profile actors may balk at being open about their mental health so early in their careers, both Maisie and Sophie feel passionately about sharing their struggles. With a combined social-media following of 20 million and counting, they're fully aware of how their position enables them to help others. "I've gone through some lows in my life and I want to come out of them in a positive way and help people," says Sophie. "I actually have a really big problem with not being able to stand up for myself," she adds. "Especially if I'm arguing against a man. Jessica Chastain [who Sophie worked with on new X-Men film Dark Phoenix] is the one that said it to me, 'You need to stand up for yourself more!'" She's referring to the time when an actor she worked with "walked off set" when it was time for her to say her lines, and a writer stood in for him. "She [Jessica] said, 'Just go and talk to him, go and say something to him!' I'm a bit of a shy, pushover person, but I'm getting there, I'm working on it."
Sharing The Throne
While they seem incredibly in tune with their bodies on GLAMOUR's set, like anyone constructing an identity in our social-media age, the topic of body image has been part of their lives since GOT first drew swords in 2011. How has playing tomboy Arya Stark – who is largely devoid of sexuality – during her formative teenage years affected the way Maisie perceives herself? "I've never felt very pretty because I've never been portrayed as very pretty on screen. I actually think that's really great, but in terms of how I personally feel, it's been difficult sometimes," she says.
But being on set with women of all ages, shapes and sizes, from Emilia Clarke and Lena Headey to 6ft 3in Gwendoline Christie – has helped both actors. "I've met incredible women who all look very different. They all had really positive messages for us," adds Maisie. "But I don't know that you can ever really get away from the intense pressure of body image when you're an actor. It was something I never cared about. I never thought I was fat until I became an actor – and I'm not fat! I don't know any young woman that I've spoken to in this industry who hasn't struggled one way or another with their appearance. I just think it's very hard to escape."
Building a positive body image is something Maisie has struggled with outside the bubble of GOT's seven kingdoms, "Especially when you get down to the final three for a role. You can all be really talented, but ultimately it comes down to the way you look. It's hard not to obsess over that. I try to nip it in the bud because it's self-destructive."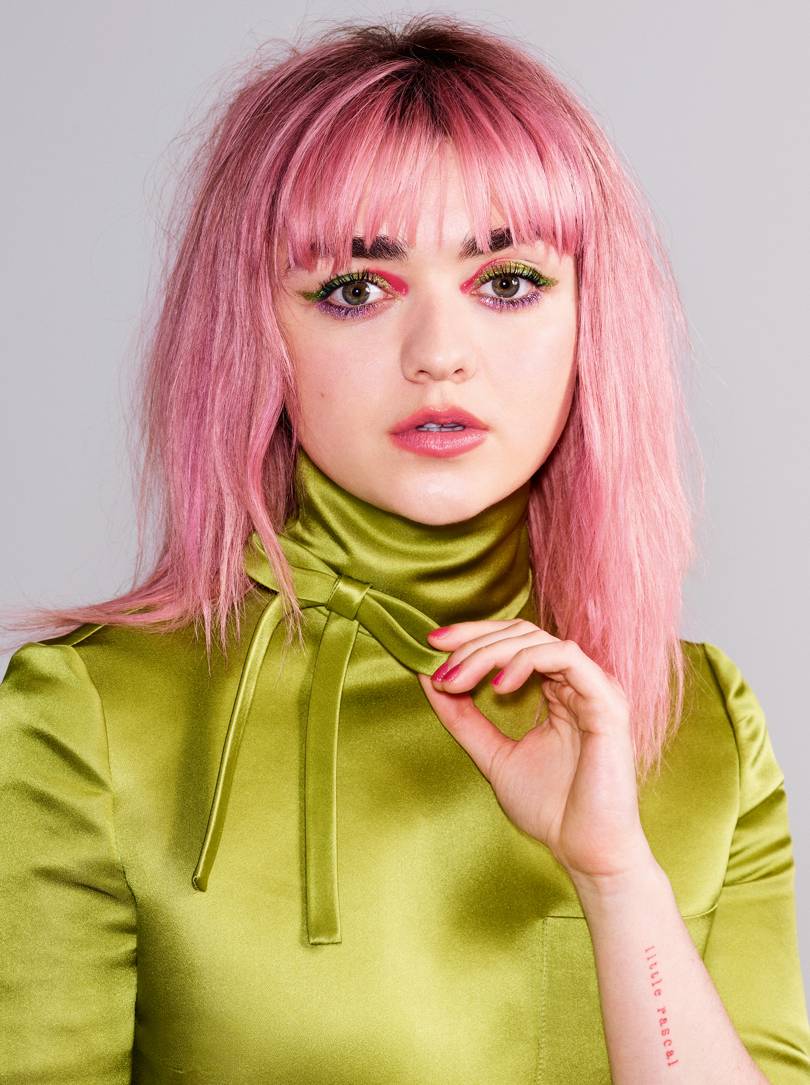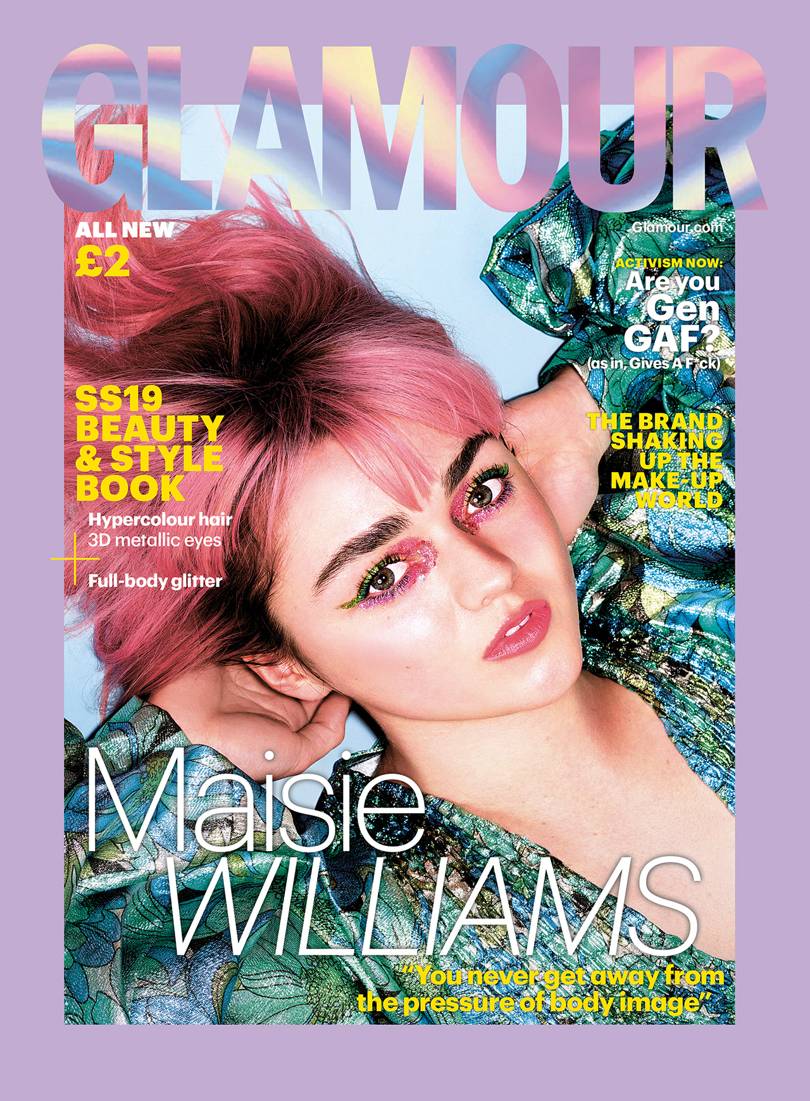 Done Playing Games
Fundamentally, what makes this friendship so remarkable is that there's zero competition between them. They even constantly recommend each other for potential new roles, something that Maisie thinks is rare in the industry. "For a long time in my career, I didn't really meet anyone whowas mean or acted like a diva, but then I did," she says.
"There's a real lack of respect when people are bitchy on set." For someone who was heavily bullied when she returned to school after filming the first series of GOT (Maisie even discovered that an anonymous account abusing her online was set up by someone she knew) this experience brought back painful memories of playground politics. "It felt like I was back at school," she says. "It's like, 'We've all been given this amazing opportunity and now you're making it unpleasant for me.'"
It's hardly surprising that Maisie and Sophie's anti-Mean Girls approach applies to supporting other young actors they know, too. "Sometimes I think, 'Oh God, we're probably all going up for the same roles,'" says Sophie. "'We're all the same age, [are we] just going to be catty towards each other?' But all the women I've worked with have been very supportive – and vice versa. I want them to do well because women should be all in it together. I go for a lot of roles that people like Zoey Deutch go for, or Chloë Moretz, but they're my friends – I really want them to get those roles, and half the time they're better at the roles than me anyway, so I'm fine with it. I'm glad I didn't embarrass myself!"
The End Is Coming…
As they both venture into a post-GOT world – Maisie will follow Sophie into the X-Men franchise, with a new, separate film: The New Mutants. Don't bank on seeing them reunited on screen any time soon, though (sigh). "Everyone on set is sick and tired of us being so loud and laughing so much!" says Maisie. "I don't know if we'll work together again. I don't know if people would cast us in something together because we are so known for these two characters. Game Of Thrones will be some of the funniest days of my life."
However, their rallying call to young women will outlive GOT. "It's about what's in your mind and how clever you are at playing the game – that's more important and will get you further than how you look," Maisie adds. "Being switched on, aware, analysing, and understanding people is going to get you so much further than being pretty."
So, what about those final series plot spoilers? While Maisie jokes that you'd have to get her "very drunk", to reveal the ending, someone else is already in the know. "I've just told Joe [Jonas]," confesses Sophie. "But he's so mad at me – he loves the show!" She shrugs sheepishly. "Well, I have to tell someone, otherwise I'll burst." That's right, Mophie play by their own rules.
Game Of Thrones season eight airs on Sky Atlantic and Now TV
on April 15. To watch Sophie and Maisie share their hilarious life advice stay tuned to GLAMOUR UK ON MONDAY