The Actor Opens up About Arya Stark, Dogs, and the Game of Thrones Finale
What do we say to the god of death? Not today.
It's hard to think of anyone more formidable than Arya Stark, the puckish, ruthless warrior that 22-year-old actor Maisie Williams plays on Game of Thrones, currently the world's most popular television show. But then you meet Maisie Williams.
Like Arya, Williams has had to grow up quickly. Both she and her character are independent, fierce protectors of what they believe in. They have each faced and conquered adversity (for Williams, a relentless onslaught of cyberbullying in her teens; for Arya, the brutal murder of most of her loved ones, culminating in the defeat of the the Night King, the harbinger of death himself). Both subvert norms of what's expected of little girls. On the cusp of what is surely one of the most highly anticipated conclusions in television history, Maisie Williams is figuring out how to leave Arya Stark behind.
When I meet Williams at an East London café—close to the offices of her company, Daisie, which was founded in 2018 and aims to connect creative newcomers through supportive collaboration—she is enthusiastic about her many interests and ambitions, and she comes across as unfazed by the trappings of fame. In her appearance, she's as far removed from her character as might be possible. After spending eight years on set with greasy hair, no make-up and a muted wardrobe that ran the gamut from brown to beige, she's got her hair dyed mauve, nails painted, and at least three shades of glittery eyeshadow daubed on her lids.
While speaking with her, I am reminded of one of the pivotal moments for her character on GoT. In season five, Arya throws away the grubby clothing she's worn as a runaway throughout all of seasons two, three, and four, in an attempt to leave her old self behind and become no one: a girl with no name, who can assume the form of another by wearing their face as a disguise. But, in another case of art mimicking life, her innate individuality wins out.
As is the new norm among her peers, Williams's identity is not static. Before she was an actor, she was a dancer, and now she's also a tech start-up entrepreneur, film producer, and industry mentor. As GoT comes to an end—its eighth and final season now screening, feverishly followed, documented, and hyped—I had planned to ask Williams about her experiences on the show, as well as her newest business venture, London Creates, and her upcoming role as Wolfsbane in the new Marvel superhero film The New Mutants. But instead we spend most of our time giggling about dogs, dolls, and the perils of DIY hairdressing.
Before we parted ways, she spoke about how she had her mind set on scaling the highest peaks in the UK. As for where she heads after that, it's up to us to follow.
Rosie Prata
Maisie Williams
Where are you coming from today?
I went to get some pictures framed, then to the hardware store with my dog. He's got a bit of a tummy bug, so that was fun.
Oh no, poor thing! Tell me more about your dog.
His name is Sonny and I got him from the dog pound, so I'm not sure what he is. He's got long hair and his eyes leak a lot and he's got gross ears and a dribbly mouth and, like, he's really cute, but he's a bit feral looking. I love him so much.
I'm really glad we started here, with dogs—your character on GoT, Arya Stark, is such a lone wolf. Now that the series is coming to an end, how are you feeling?
It's really strange. I feel like I'm in limbo between the last chapter of my life and the new chapter. At our press week in New York, there was a real sombre vibe among the cast. There's never a dull moment when we're all together, but there was a real sense of sadness in the room, as if we were all at a funeral together. It just won't be the same again. We can stay in touch, and we can go to each other's weddings, but it's never going to be like it was when we were in Northern Ireland shooting GoT.
When was your last shoot day?
Mid-July last year. I was one of the last people to finish filming, so I really held off a lot of the emotion for a long time. I'm still not really over it. People want to know what it's like, and I want to be honest. I feel things very, very deeply, so it's hard to just have a one-sentence answer.
The only thing that I could guess it relates to is the ending of school or university.
Exactly. Last time I felt like this was in primary school, and that was ridiculous because in six weeks we all ended up at the same secondary school anyway.
Do you find it hard to move on?
A little bit. Playing Arya will be the most defining thing I ever do, and now it's done. It was my first role. So much of what I know about this world is in Arya and I can't imagine anything that will be as precious to me as Arya is—was. God, that's sombre. I'll always keep a piece of Arya with me. I know where my bar is now, and I don't feel like I ever want to go any lower than that.
Are you being really picky about the next projects that you get involved in?
Yes—much to my agent's dismay. I think success is measured in so many different ways, and to me it's playing incredible characters and doing things I didn't think I was capable of. There's really no point in me doing this job that I'm so lucky to have if I feel miserable doing it. What I've learned from my 22 years on this planet is that what actually makes me happy isn't all these things that come with being an actor. It's having a nice routine, loving what I'm doing, and being able to see my friends.
Let me ask you about your next big project, London Creates, which has just launched. Can you tell me what it's all about?
London Creates is a campaign to find creative people and give them a real opportunity to work with others who have already carved out careers. My flatmate, Bill Milner, and I started a production company a few years back, and we want to make a new short film. We have that leverage to be able to help anyone who's just starting out. Everything—the script, the music—will come from people we find through this campaign, which is so exciting. These people are going to be ruling the world one day, and what a privilege it is for us to be able to work with them right now, when they've maybe not even done anything yet. The campaign will encourage collaboration across film, music, fashion, photography, and design, and it's part of my company, Daisie, which is an online platform that's all about being fluid between different industries and that being celebrated.
You started out with dance, didn't you?
I did. I went to my first dance class and I said, "I want to dance like Usher." I learned hip-hop, ballet, tap, musical theatre, lyrical, contemporary. I did it until I was about 16, when everything took off acting-wise.
So, you dance, act—is there anything else that you are already trying or would like to try?
Doll making. I want to make a little doll but with super strange proportions, like really long arms and a huge head and a little doll face. I saw a picture of this doll on my Instagram Explore page and I texted my boyfriend and was like, "I just had an epiphany. I think I was born to make dolls." I want them to have tiny little hands and tiny little fingers, and skin suits that you sew them in. You know that bit in the beginning of Coraline, where they make the doll? That's my favourite part of Coraline, which is my favourite movie.
There's probably a doll of you out there already, isn't there?
There are dolls of me, but it's not the same thing. I want to make a custom Blythe doll—I want to start casting faces and make clothes that you have to lace up or zip up. I want them to be tiny little people—like, real people, with skin. Even the armature wire I bought is red so that it's like veins, and when I do the felting for the body, I want to put in a little heart in there. No one's ever going to see it, but I'll know it's there.
This is your thing! It's giving me a real window into your aesthetic sensibilities.
I think I'm drawn to a lot of different things, but definitely, like, 1940s French, K-pop, Kawaii vibes—and then also super fluid at times. Sometimes there's stuff that I do that's a little masc. Variety is the spice of life!
You've got purple hair right now. Is that for a role or just for you?
Honestly, it's like, a really sore subject, and I'm not talking about it. No, I'm kidding. I had it pink for a long time and loved it. Loved the pink. Don't mind the purple.
What colour are you naturally?
Pink! Kidding, I'm brunette. I got it bleached by a professional and then I just did it myself. Dyed it pink. Ran out of pink hair dye, needed to fly to New York, decided to just buy some hair dye in New York, didn't do it right, obviously, because I'm not a hairdresser. Dyed my hair a really, really awful hot pink. Which I get—it's a look! It's just not for me. I was trying to rinse it out and it would not work and went all patchy. I should have gone to a hairdresser, but I didn't, and then I tried to strip it out. Finally, I made it this weird grey-blue colour. Hated it. Decided to just dye it purple instead for the GoT premiere.
I think with dyeing hair, the more DIY, the better, honestly.
Well in East London I fit in quite well with dyed hair.
When did you move to East London?
Two-and-a-half years ago, and I haven't really left. I've got a studio and I do a lot of painting there. I go for two hour-and-a-half-long walks with my dog every day. I just like to think and take time for myself, have me time. Read a book, write something.
Are you one of these people who seem extroverted but are secretly introverted?
Yeah! I didn't realize that until like, last summer, then I was like, oh, this is the answer to all of my problems.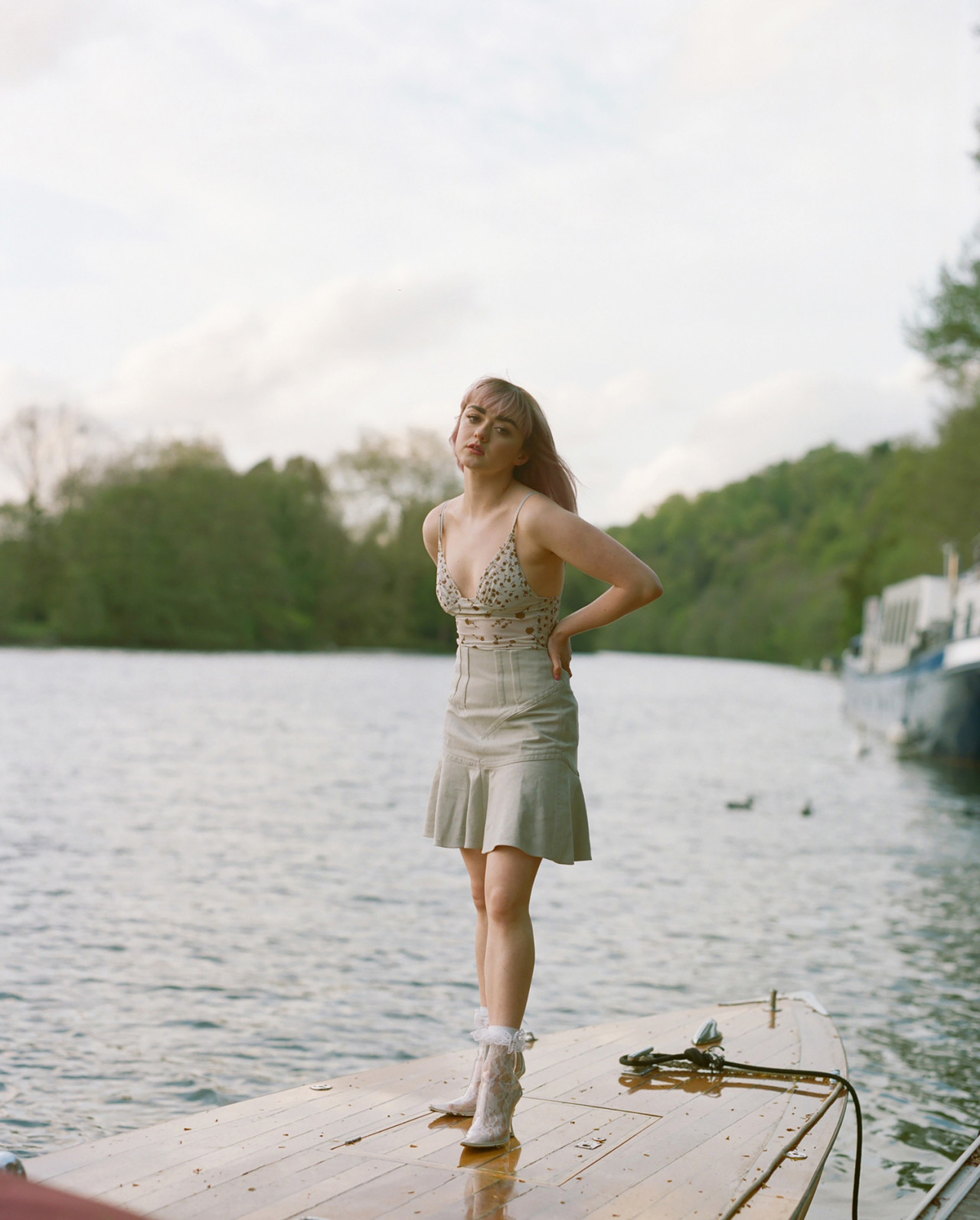 I'm exactly the same way—must be an Aries thing. Your birthday is coming up soon—what are you going to do for it?
I'm going to climb Scafell Pike. Last year I had my 21st and had a huge party with loads of people and was up until 7 a.m., but I'm over that now. I want to feel like I really achieved something. So I thought, what's the highest peak in the UK? Scafell Pike. Things like that are what mean a lot to me in life. That's what I'm going to look back on, really, not what I did in my career. Honestly, you know, I'll look back on GoT—that changed my life forever—but what really makes me proud and happy is little things that anyone can do. For me, that's climbing mountains, and maybe doing a marathon. That's what makes me, like, me. It's the little things that anyone can do, I think that's what the meaning of life is. It's not the things that no one can achieve.
I have to ask you about the ending of the show. Do you know what's going to happen?
I do. There are so many different possibilities that no one is going to see it coming.
Is it going to be a surprise?
I thought no, but I've been asking people what they think the ending is going to be and they're way off. I don't think it's predictable, just because of what I've heard. The writers must have had so much fun working on it because there are so many outcomes, with it being the final season and with like, 35 core characters. It's not really what people expect.
On the show, is Arya the character that you identify with most, or is there another character that you, Maisie Williams, identify with more than others?
I identify with Samwell Tarly—he has this low view of himself but is still doing incredible things and has had this whole journey. And in some ways, I identify with Jon Snow, in that everyone says to him, "You're the king of the north" and he's like, "I've never wanted to be a king." Particularly coming to the end of the show, everyone's saying to me now, "You're going to be a hugely successful actor now. You have to act. That's what you've been born to do," and I'm like, but no one's seen me do anything else. Maybe I'm going to make really dope dolls. Who knows?